CUSTOM BARRES - Ballet Barres Manufacturer

Ballet Barres • Dance Equipment • Fitness Barres • Stretch Barres
Freestanding Portable Ballet Barres • Wall Mounted Ballet Barres • Floor Mounted Ballet Barres • Ballet Barre's Brackets
The Best Ballet Barres for dancers of all skill levels!

Custom Barres manufactures high quality professional ballet equipment.
All of our Ballet Barres are designed and manufactured in the USA, using the highest quality materials, and each ballet barre is custom made to order.
Barres are available in custom sizes, colors, and patterns. Our ballet bars are also available in a variety of materials: Light Steel ballet barres, Heavy Steel ballet barres, Aluminum ballet barres, Oak ballet barres and Maple ballet barres.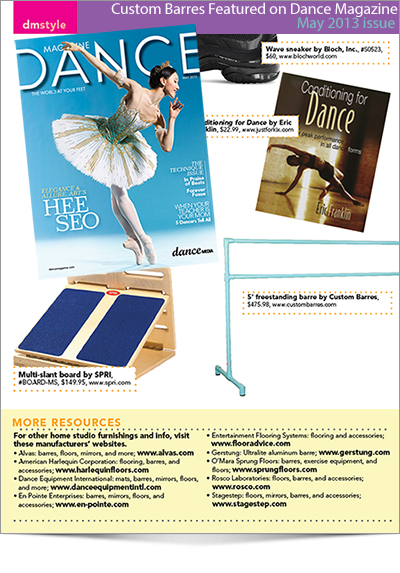 Custom Barres also offers custom decal ballet barres and personalized ballet barres. Make your barres stand out. At custombarres.com you can buy ballet barres of all styles including: freestanding ballet bars, wall mounted ballet bars and floor mounted ballet bars.
Our number one goal is to make the Finest Ballet Barres in the World!

Professional studios, ballet companies, dance companies, public schools, colleges, fitness centers, Pilates studios, Hotel Spas, Martial Arts Centers and home studios throughout the Unites States and abroad use our custom ballet bars.
Our Barres were featured on Extreme Makeover - Home Edition, will be making their debut on GLEE, and reappearing on NBC's #1 Drama SMASH! Join our Facebook Group to hear the latest from Custom Barres!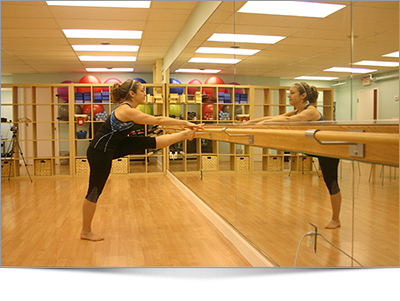 CUSTOM BARRES ~ The Barres that make you want to dance!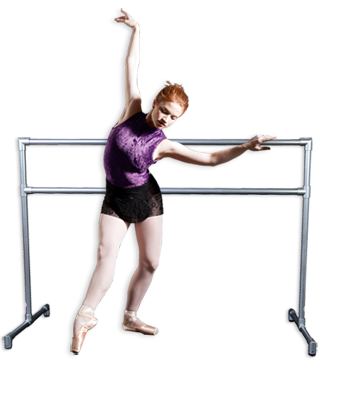 Ballet Barres
Ballet barres are essential and required equipment for any ballet class or barre method class. Ballet barres assist in proper alignment, balance, and flexibility. Our freestanding ballet barres can fit in any room, and can be fully customized. All of our freestanding ballet barres can be easily assembled in less than 5 minutes.
Our barres are used throughout the world for Ballet Classes, Bar Method fitness classes, Physique 57, Bar3, Pure Barre, Lithe Method, and many more. Be part of the growing trend of staying fit with a ballet workout. Find classes available in your neighborhood.
The proper ballet barres and products offered by Custom Barres are essential to a successful and rewarding ballet practice and any barre classes. Custom Barres ballet equipment can help you improve your ballet technique and increase your flexibility. Our top quality ballet barres are tailored for the ballerina, serious dancer, and anyone who likes to practice Ballet in a studio or home environment.
CB Gives Back
Custom Barres each season gives a way a free ballet barre for a deserving dancer or organization. To learn more please visit our Custom Barres Gives Back page.
Three years ago, Maya was diagnosed with a brain tumor and was forced to undergo extensive brain surgery. When she awoke from surgery she was unable to move her entire left side and suffered tremendous damage to her short term memory. After 3 days in ICU she finally spoke. Maya wanted to know when she could get back to dancing as she had a show 4 months later and was insisting that she still be in it. Her parents thought...there is no way. Well, Maya proved them wrong. When we heard of Maya's struggles it was very clear that Custom Barres needed to do something for this very special dancer. Custom Barres decided to fulfill Maya's dream and award her with her very own freestanding Custom Ballet Barre. Maya was able to create a custom barre, built especially for her - a hot pink double ballet barre with a zebra decal and black connectors - excellent choice! This barre will allow Maya to practice at her own home and continue getting stronger and healthier.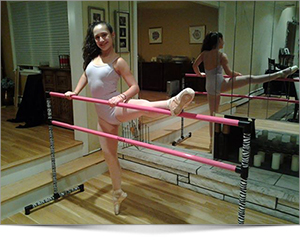 Learn more....