Cabriole Double
(ka-bree-AWL DOO-bluh)
Double Wall Mounted Ballet Barre Bracket
Reinforced for maximum support, the CABRIOLE DOUBLE transforms an ordinary double-barre into a driving force for high-power fitness & high-volume dance classes. All necessary hardware is included for standard installation
Highlights
10 luxurious finishes to compliment any room
Made from the highest quality steel.
Open or closed saddle style
Choice of 1 5/8" or 2" diameter
Tested up to 350lbs
Heavy Duty Construction
Made 100% in the USA!
Product Details
The CABRIOLE DOUBLE double-barre wall mounted bracket is constructed to withstand the high demand of studios and gyms with numerous classes that run throughout the day in all heights and age-ranges. With industrial strength, this bracket can be found supporting the most intense workouts in the smallest to largest class sizes. Strong never looked so beautiful. Available in Open or Closed Saddle.
BARRES ARE NOT INCLUDED. PLEASE MAKE SURE TO PURCHASE YOUR WOODEN BARRE.
Fun Facts: Custom Barres Cabriole Double Wall Mounted Barre Brackets featured on TV's well known show - SMASH! (see picture below)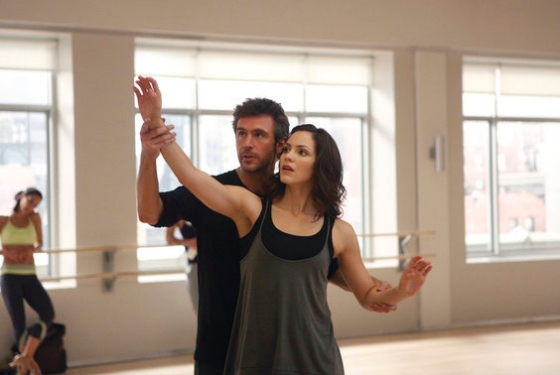 Material
Steel Powder Coated
MirrorMinimum distance
from mirror : 1/8"
Projection
Approximately 8.25"


Measured from wall to center of barre
Custom Barres wants to show off your space!
Share a snapshot or professional photo of your studio with Custom Barres and be featured on our website
and/or on social media
Custom Barres can be found around the World in homes, gyms, hotels, studios and much more…
Browse a gallery of our our customers photos for design ideas or to find out where to take a new class in your home town or while you are traveling across the globe.We love hearing your stories and seeing your designs in living color! Contact us at support@custombarres.com to find out how!